Smart Tips for Bathroom Decluttering
The second easiest area in your home to get overwhelmed with stuff – is your bathroom (the first place goes to the garage).
The bathroom has a dirty job. This area is where you shower, bathe the kids (and fur babies), hide to gain a moment of sanity, groom your hair, shave, fix owies, treat burns, bandage bloody wounds, and clean your teeth.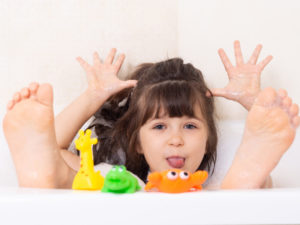 Then add all the supplies need to combat that hoard of dirt, germs, and pathogens. It is no wonder this multi-purpose room that fills up quickly.
If you thought books got off the shelves and multiplied quickly, they have nothing on towels and cleaning products.
(Did the books take their inspiration from your bathroom? Just wondering.)
Questions to Ask
When you start your bathroom decluttering adventure, it helps to have a list of questions to ask as you examine your bathroom.
Below is a quick list to consider.
Do I use this?
What is the expiration date?
Is this an extra?
Would I buy this again?
Does this make my life easier or better?
Should the space be babyproof or pet-proof?
A Word About Safety
Safety is a priority for us at All-In Hauling. We found that prevention is the best way to remain safe. When considering taking on bathroom decluttering as your next project, take a moment and look at it from the angle of your child and your pet.
Do you see anything tempting or curious?
Is there anything your child or pet could pull on?
Does the trashcan have a lid that is easy to open?
Are there any chemicals within reach or easy to get to?
We recommend correcting what you can first. Then install baby locks on all drawers, cabinet doors, and additional storage where appropriate.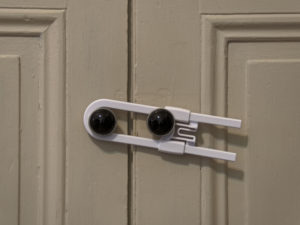 Bathroom Decluttering Problem Areas
Every room has its main trouble spots. However, due to the limited size of most bathrooms, useable space is at a premium.
Make a list of what you use daily, weekly, and monthly. Then ask yourself, do I really need it in the bathroom?
If you need additional storage, consider:
A shelf over the bathroom door
Adding an etagere over the toilet
Attach a spice rack to the wall
Don't go overboard.
The last thing you want to do is cram so much "storage" into your bathroom that it loses its "sanctuary" feel.
Medicine Cabinet
First, take everything out and toss out anything that is broken, expired, or only has a pill or two left in the bottle.
Pay particular attention to old medicines. If you did not finish the contents of a prescription bottle or the over-the-counter (OTC) medication expired, trash it. Put it in a ziplock bag and bury it in the trash. Make sure that no little hands or paws can access the bag in the garbage.
Once clear, free up that space by attaching magnetic strips to the inside of your medicine cabinet's door. Then, place the metal grooming supplies (scissors, bobby pins, tweezers, etc.) on the strips for easy, clutter-free access.
Counter
Think of counter space as your bathroom's "Boardwalk" and "Park Place" – it is premium real estate.
Tackling the counter in your bathroom decluttering adventure takes more forethought. Imagine how much space you need to do daily, weekly, and even monthly tasks. Do you have enough room to do these tasks safely?
Here is a typical scenario:
You are getting ready for work and need to finish your morning routine
Women: Do you have enough space for your blow dryer, curling iron, and coffee without fear of being electrocuted?
Men: Can you safely have your toothbrush, shaving equipment, and your aftershave on the same counter as your coffee? Or do you risk dropping toothpaste in your morning cup of joe?
If the answer is no, clear everything off (including that art deco piece from great Aunt Bernadean). Clear everything but the absolute bare essentials – soap to wash your hands.
Live with the change for at least a month.
Then slowly re-introduce "essentials" to see if they interfere with your morning prep for the day.
Storage Closet
The all-mighty storage closet can hide a lot of sins. But if it is not easy to access what you need quickly, the closet will look like a train wreck.
The easiest solution is to use a storage solution like baskets with labels.
Pro Tip: Only have enough towels for two showers. Put the rest in your linen closet.
Everyday things found in a bathroom storage closet include:
Towels – Separate the useable from the rags
First Aid Kit – Don't forget to check the contents for expiration dates
Monthly and Weekly grooming supplies like nail polish supplies, extra razor blade refills, dog shampoo, and haircutting kits
Feminine Products
Extras – frequently used duplicates like shampoo, deodorant, hair spray, mouthwash, toothpaste, and dental floss.
A Word About Extras
The pandemic, supply shortages, and recent toilet paper hoarding taught us that having a bit extra on hand is a good thing.
However, unless you have a bathroom with a pantry attached,  it is best to go with the FEMA/Boy Scout version of "be prepared" rather than "Doomsday Prepper".
Consider limiting yourself to a month's supply or to the level that fills your bathroom but doesn't clutter it.
You still want an inviting space for guests.
Under the Sink
The only real difference between under the bathroom sink and under the kitchen sink is toilet paper.
You still find all sorts of cleaning supplies, cleaning tools, and refill containers under the sink.
Begin your decluttering by emptying and cleaning the cabinet. Put any chemicals you do not use in the trash. Like your bookcase, samples of different cleaning agents appear to multiply. Then they seek refuge under your bathroom sink.
Refill all containers and get rid of any duplicate bottles or travel-size samples.
Only keep what you use regularly. If you have not used it in 6 months, you won't. Toss it.
Protect your children and animals!  Put child safety locks on the cabinet under the sink.
Bathroom Drawers
Decluttering bathroom drawers does not have to be a neverending chore.
After tossing what is broken, stretched out, twisted, or outdated, install storage solutions like tray organizers to segment the open space. These trays can be stacked, labeled, and even color-coded to make your organization system simple and easy to maintain.
Don't overthink this!. Use the KISS method:  Keep It Simple, Silly!
Remember, if it is not fast to put away, it won't be.
K. I. S. S.
No one wants to become a servant to their home.
The KISS method (Keep It Simple Silly) is the best method for bathroom decluttering and simplifying your life.
If you find that your decluttering efforts have far exceeded what fits in your weekly trash tote, give All-In Hauling a call at (936) 445-8159.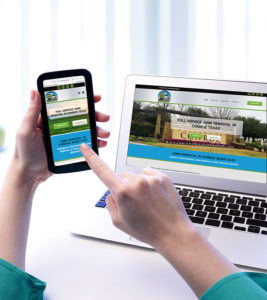 We are more than happy to swing by and take care of it for you.
No need to overfill your weekly garbage tote!
Additional Reading